Fort Davis lies about 45 minutes north of Marfa. It's a cute town with shops, restaurants, and small inns.
The National Historic Ft. Davis site is an interesting mix of restored buildings and ruins that give you an idea of what this outpost was like. "From 1854 until 1891, troops stationed at the post protected emigrants, freighters, mail coaches, and travelers on the San Antonio-El Paso Road hoping to reach the gold fields of California. Today, Fort Davis is considered one of the best remaining examples of a frontier military post in the American Southwest." It seems like it's a pretty exposed spot for attacks from above. The weather is often freezing cold or horribly hot. Not a garden spot assignment!
We decided to hike the trails up to the ridge. Although the distance isn't much, the elevation change is substantial and we had the bad luck to be hiking in 90+ degree weather. But we were rewarded with a great view over the fort grounds/town and over to the Davis Mountains. Next visit, I'd like to explore the Davis Mountains State Park.
We went to the star party at the McDonald Observatory on Saturday night. Make sure you make reservations if you're going on a weekend! We sat in a circle around the speaker, who used a powerful laser pointer to trace the constellations that were in the sky that night. After his presentation, we circulated between eight or so telescopes trained on different items, including Jupiter (saw its bands and four moons), the "Whirlpool" galaxy, star clusters, etc. Because this is a "Dark Night #1" location, you can see amazing numbers of stars even with the naked eye. Although the evening was cold and windy, we loved it! I hope to return and take the daytime tour of the research facility.
I didn't have the proper camera equipment for capturing the scene, but this one from the observatory's website is representative: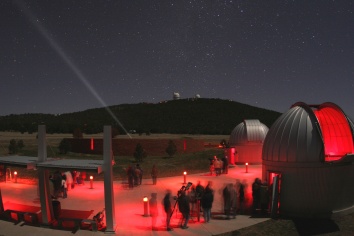 Don't miss this opportunity if you find yourself in West Texas!